Step into the Virtual Showroom…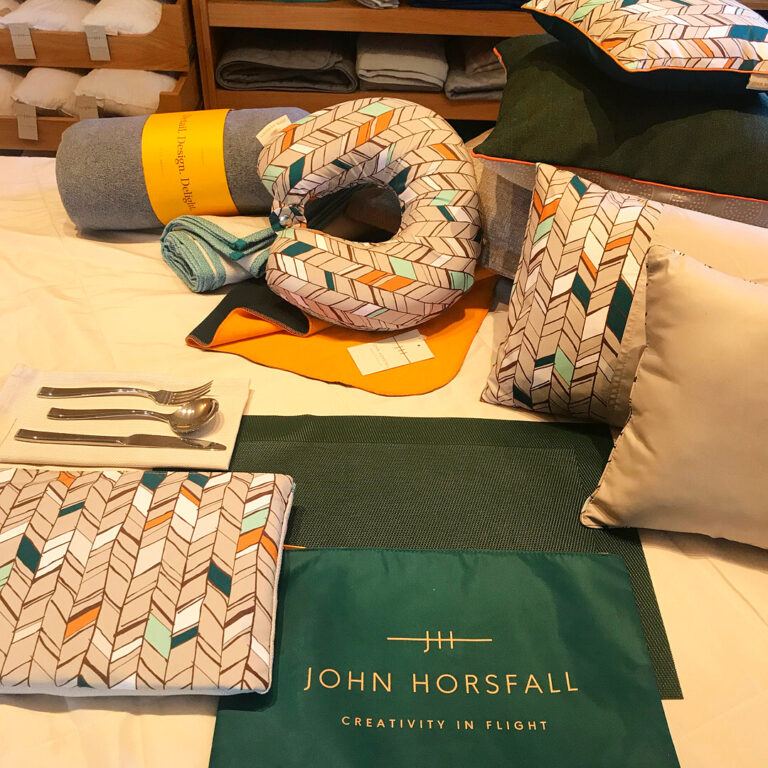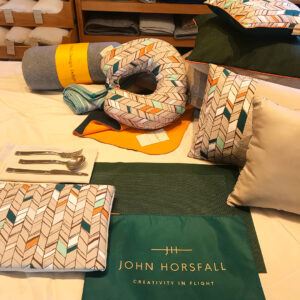 The Horsfall team have been daydreaming of San Diego recently; for what should have been another one of our exciting industry expo's. But this year has obviously been very different for us all.
However, we continue to stay positive and look to better times ahead. Nothing can stop us from showcasing our beautiful products, so we have put together our very own online showroom on our Instagram highlights.
Let's bring back some joy and excitement to the prospect of travel.
We think creatively.
We know our stuff.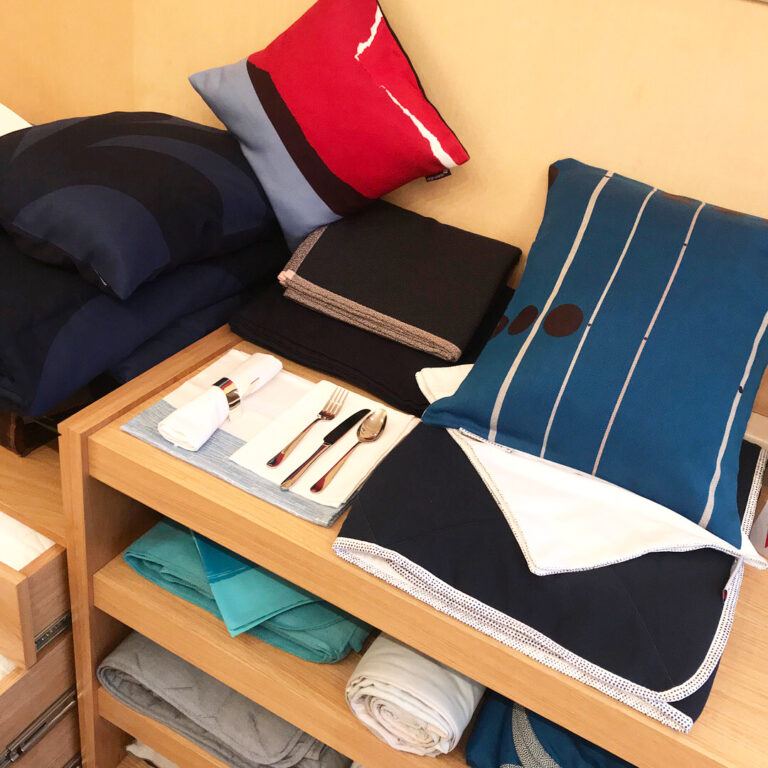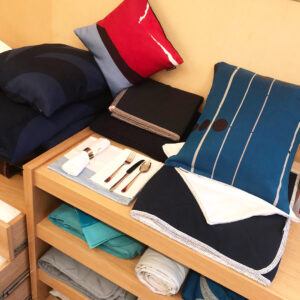 We obsess over detail.
Our team of textile & product experts bring a vast wealth of commercial and artistic experience, from top-end interiors, high-street fashion and traditional woollen weaving. Innovative in-house design is always part of our service; allowing us to bring the perfect finishing touches to your cabin-interior and delighting your passengers with details that set you apart from the competition.
From printed patterns, custom weaves and bespoke branding, we can create a design package to enhance your cabin experience and reinforce your brand voice at any budget.
Horsfall Pillow library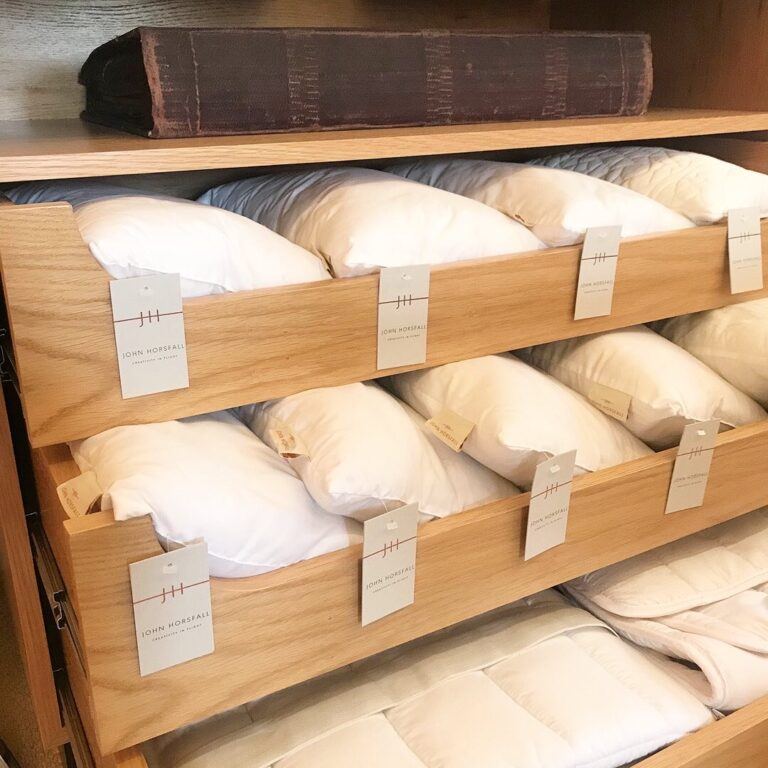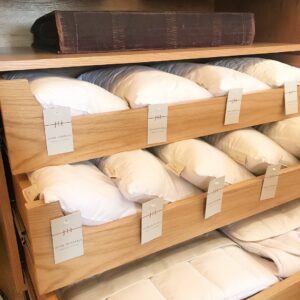 Our extensive pillow-menu, creates comfort in every cabin.
The designers at Horsfall have carefully curated a range of innovative and recycled pillow fillings to offer hotel-quality choice for the in-cabin sleep experience.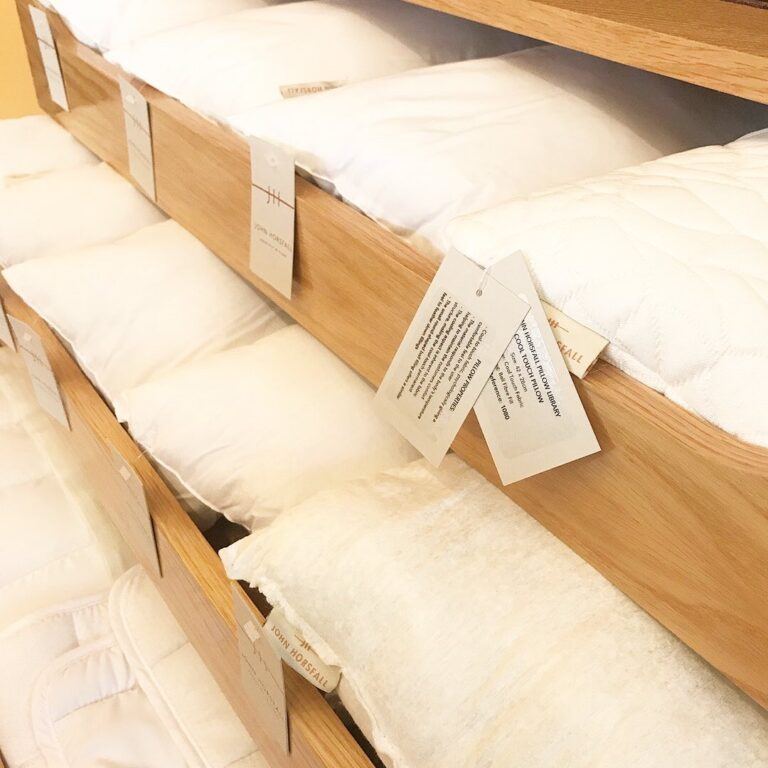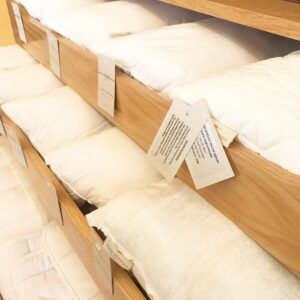 With the on-board sleep arena an increasingly competitive market, John Horsfall's collection enhances comfort, at all budget levels. The range include 100% recycled polyester fibres in a variety of deniers & crimp, and even microencapsulated calming scents scientifically proven to improve sleep quality, help you fall asleep more quickly and wake up more refreshed.
BioFibre by john horsfall
100% Biodegradable  – Zero Chemicals – Zero Plastic


BioFibre from John Horsfall is the responsible, sustainable choice for economy disposables. Ideal for headrests & pillow covers this natural fabric is soft, lint free and durable, with a textile-like surface and drape. BioFibre can be dyed or printed and there are even options for plant-based inks.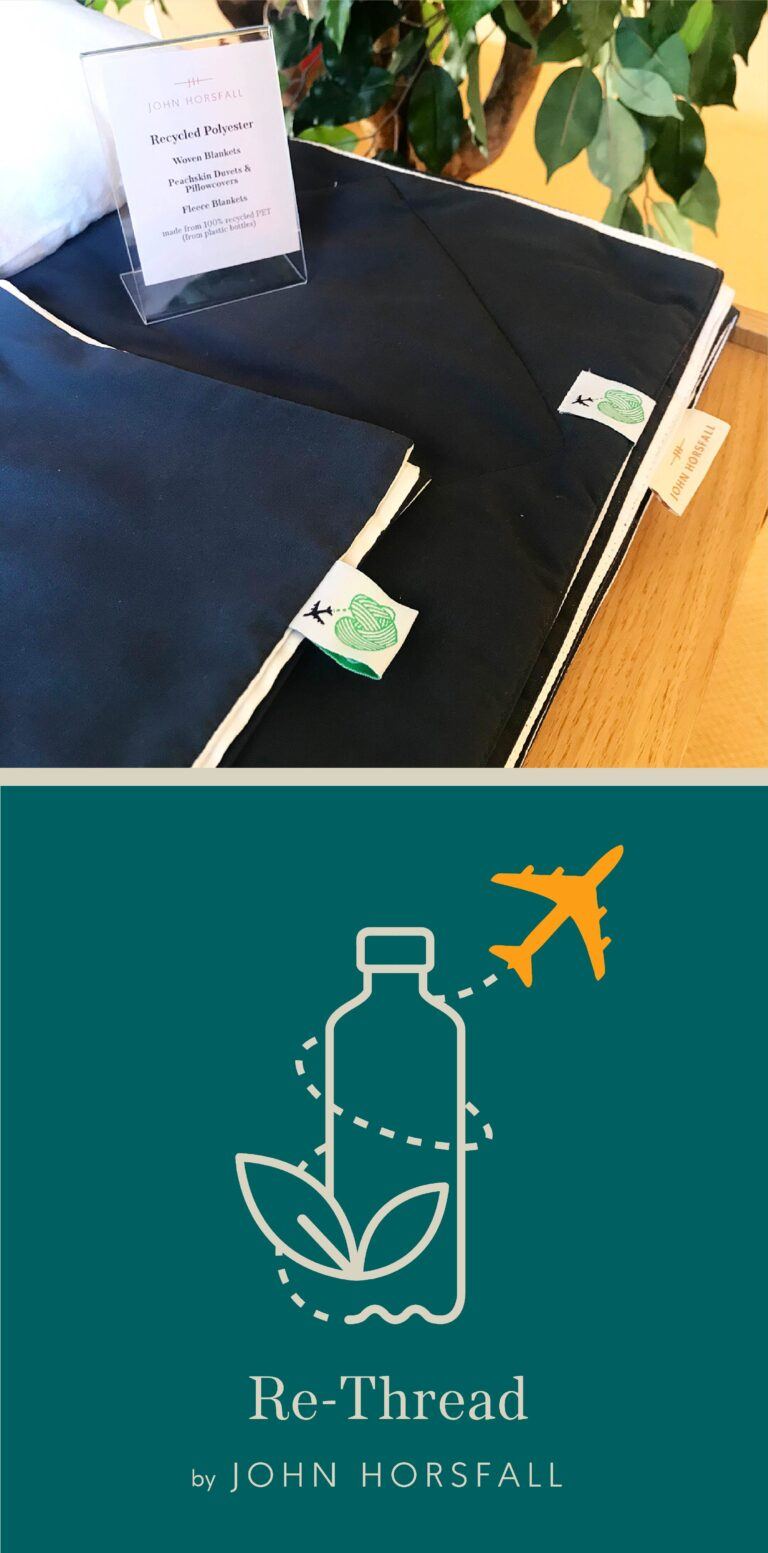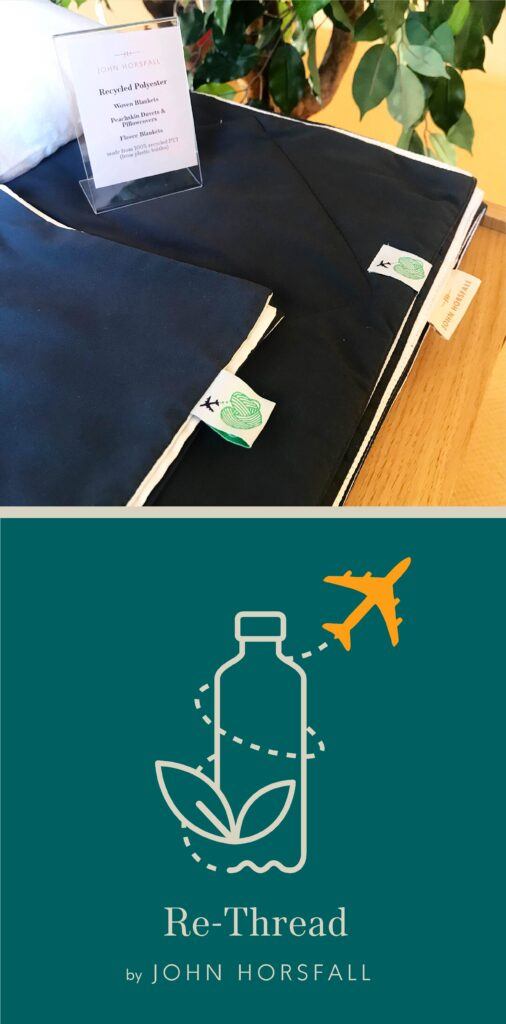 Re-Thread by john horsfall
Ingenuity and imagination is in our DNA!
Re-Thread; the new standard in long-lasting, sustainable poly' fibre. John Horsfall now offers recycled PET filling as standard in all our duvets, comforters and fibre fill pillows.
Our textile design team have pushed this innovation to the next level, and we're delighted to bring Re-thread technology to our bespoke woven blankets, duvets, pillow covers and fleeces.
To add Re-Thread sustainability to your customer experience please get in touch.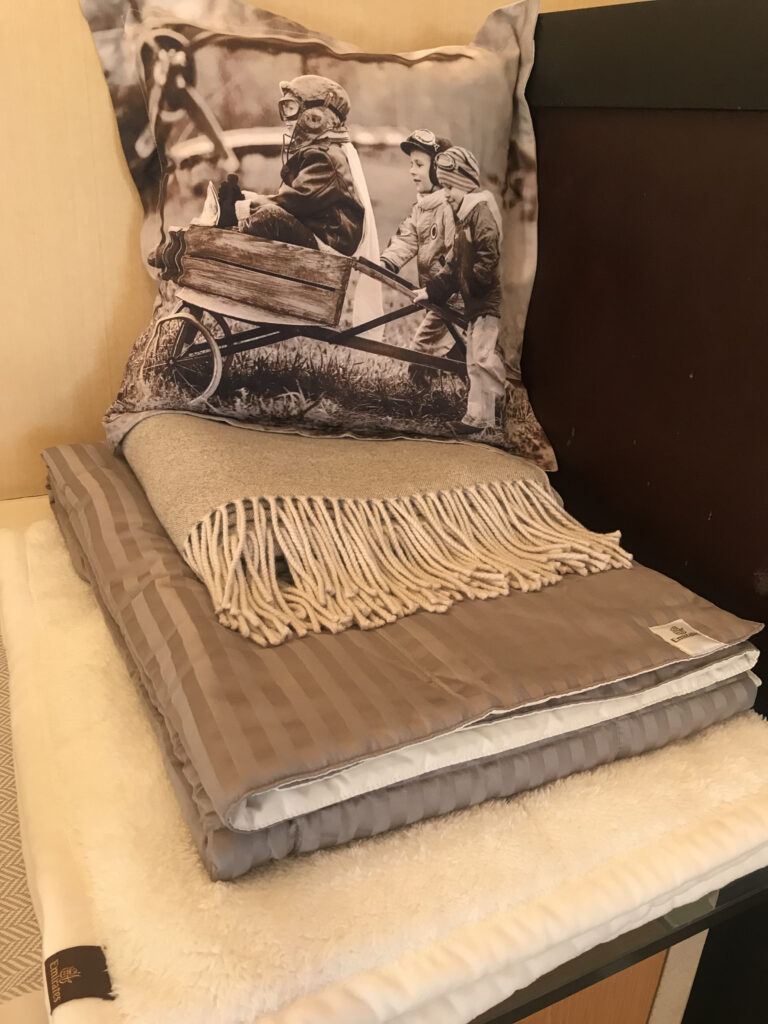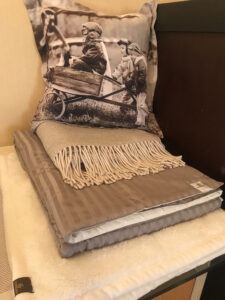 Beautifully Tactile
Wonderfully touchable and beautifully practical. The texture and feel of our fabrics is as important as the colour & pattern.
From fluffy faux sheepskin, to smooth peachskin or soft cosy weaves, our team ensure the best materials for your cabin; all suitable for industrial laundry for hygiene, longevity & sustainability.
Award Winning Premium Economy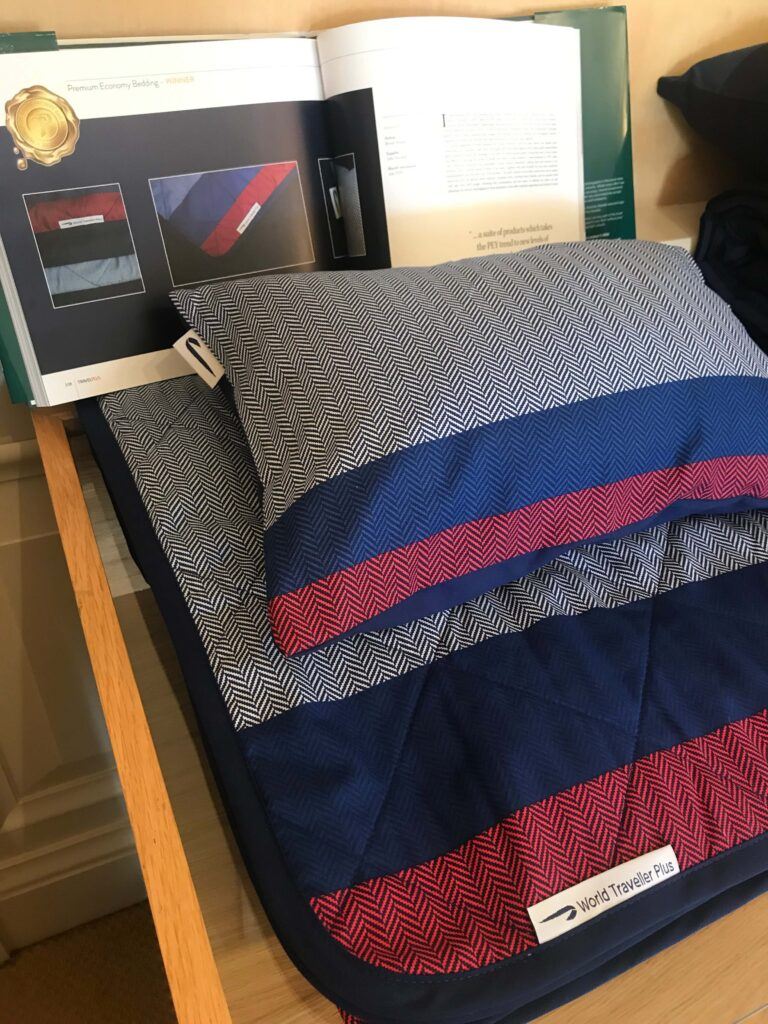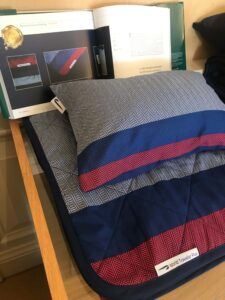 2020 Travel Plus Gold Seal award for best 'Premium Economy Bedding Set'
John Horsfall used a signature print to create a suite of products which takes the PEY trend to new levels of comfort & contentment; in BA's World Traveller Plus.
Made with wonderfully touchable fabrics which relax, reassure and delight, this bedding collection features BA's herringbone pattern, inspired by traditional British tailoring; reinvented for this bold cabin upgrade.
These upgraded textiles enhance the at-seat experience with the same fabrics and quality more-often seen in a business class cabin. The super-soft, warm quilt together with a high quality plump pillow give a sense of luxury and prestige to the cabin.
Award Winning First Class
2020 OBH Award for 'Best for onboard textiles – First / Business Class'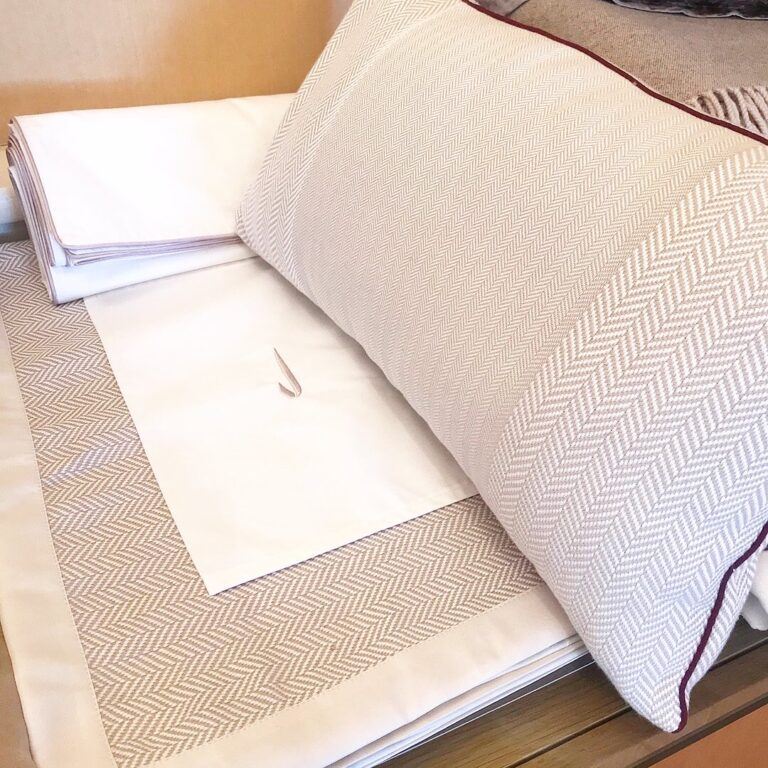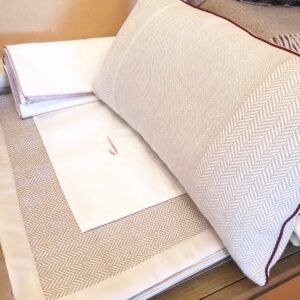 John Horsfall developed a stunning suite of products including a duvet cover, pillow cover, day blanket and bolster cushion to elevate the customer experience.
The result is a set of luxurious bedding items which would not look out of place in a revered five-star British hotel.
A perfect example of our mantra, Detail, Design Delight, this collection oozes style with its subtle herringbone weaves, and delicate embroidered decoration.
John Horsfall worked closely with BA and their laundry to ensure that these fabrics meet the practical requirements demanded by the fast moving, high intensity usage of our industry, whilst enhancing the cabin appearance and passenger wellbeing.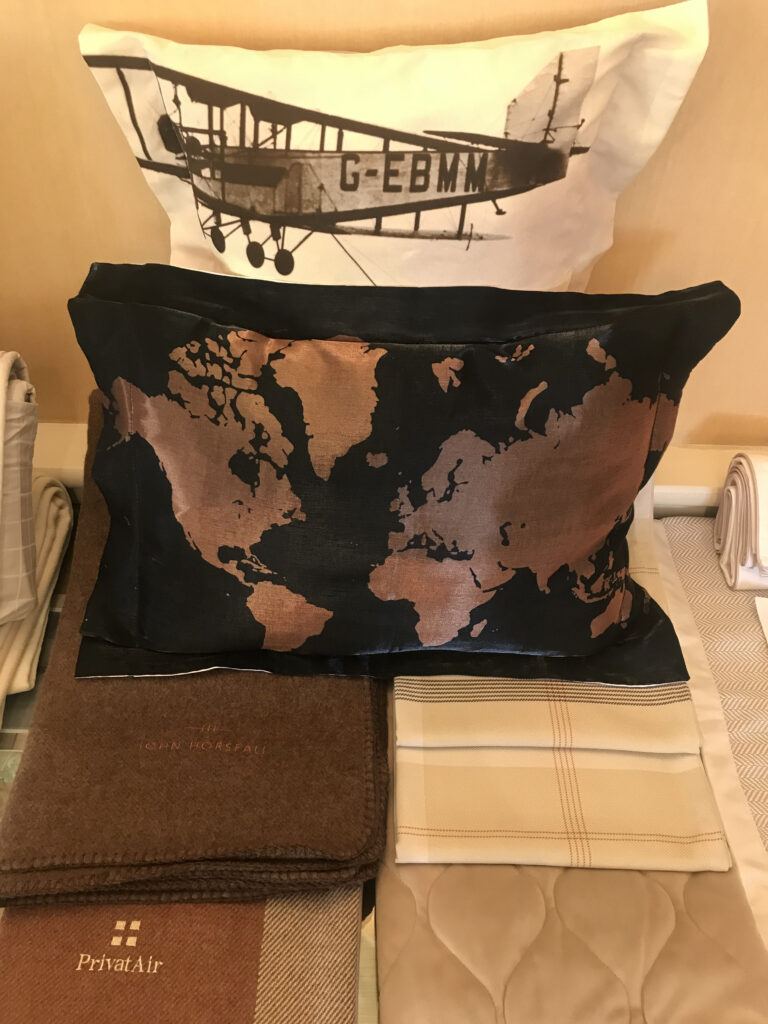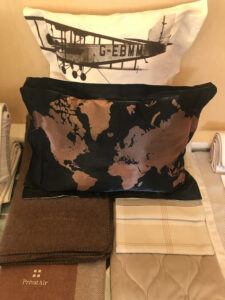 Travelling through Neutrals
Neutral and calm, doesn't have to mean boring. Our designers use texture, quilting, print & pattern to bring joyful details to even the most subtle of cabin interiors. All our products are made to order and custom designed for each airline, whatever your style or budget.
In addition to our online showroom, enjoy a 5 minute break to read more on the calming power of textiles in our Taking Comfort blog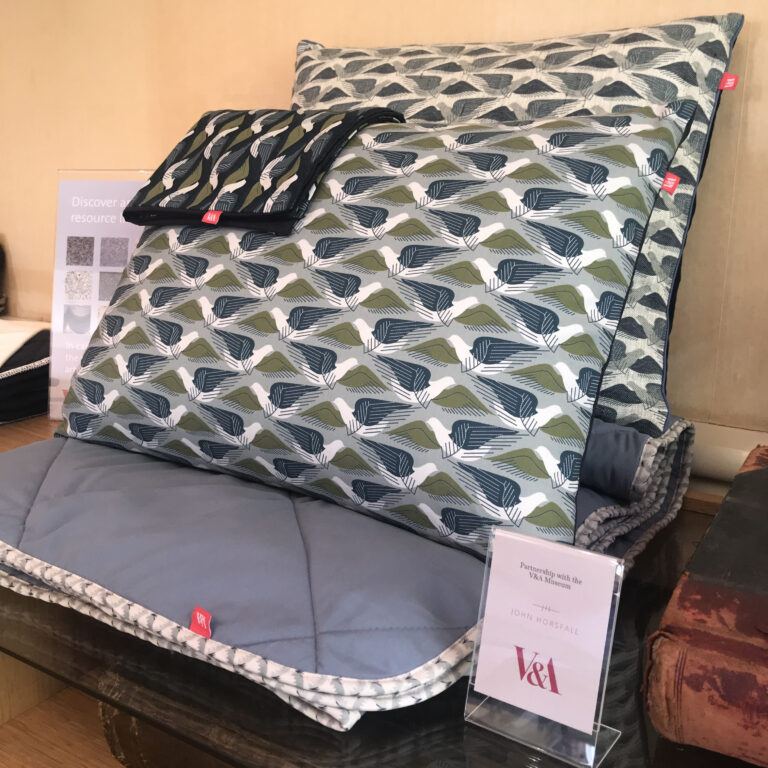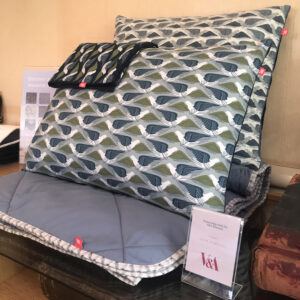 The Prestigious V&A
Brand collaborations have proven a popular trend in airline interiors, from mattresses, bedding, blankets and even crew uniforms. John Horsfall work closely with your chosen Partners to bring the brand to life in wonderfully touchable and beautifully practical products.
From international consumer brands, to coveted local designers, or major national museums like London's V&A – We collaborate. We innovate. We elevate experiences to new heights.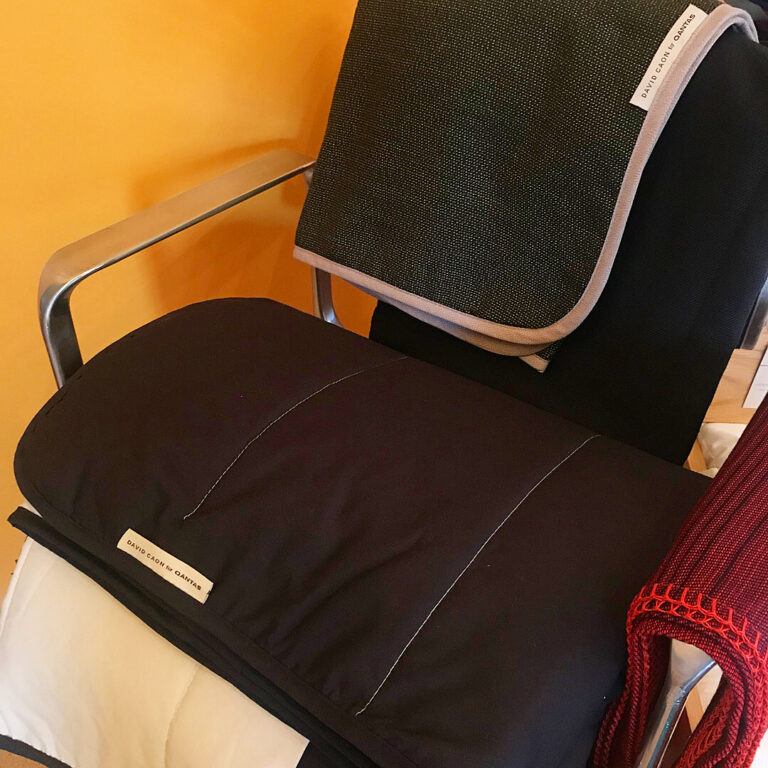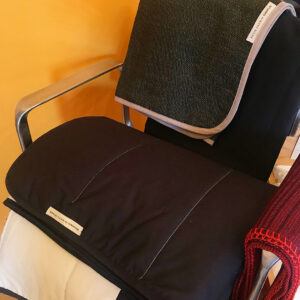 Brand Collaborations
An exciting brand collaboration with John Horsfall included working directly with one of Australia's leading designers, to develop Qantas' suite of bedding & sleep items for Economy, Premium Economy and Business Class; to coordinate with Caon designed seats and interiors for the launch of the new Dreamliner cabins.
It was an intensive collaborative process, using our knowledge and experience in fabrics and airline products to interpret graphic ideas from the Caon Studio into tactile, touchable fabrics with texture, movement and vibrancy.
If you're enjoying our online showroom, see even more of our exciting projects here.
Private Jet Luxury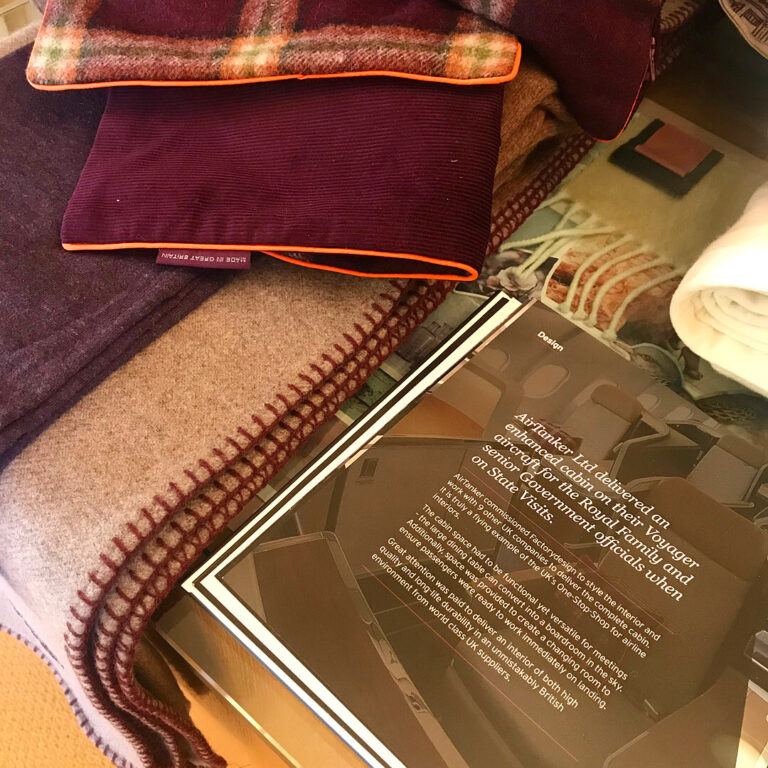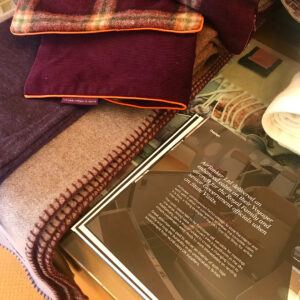 As well as large-fleet international carriers, we work with Private Jets, Charter Services and exclusive shared-flight schemes to develop bespoke collections at all levels of luxury.
This client came to us to showcase the best of British Design, and textile heritage. Using fine woollen fabrics from our home county of West Yorkshire our in-house experts designed a collection of relaxed, refined textiles with a distinctly British aesthetic.
Get in touch to see our new Private Jet collection full of specially curated inflight comfort items designed to relax, reassure and delight.
We are still here for you, whenever and however you may need us.
So get in touch and let's collaborate and innovate together today!