The Original John Horsfall
CAN I SPEAK TO JOHN HORSFALL PLEASE?
Every week we have calls to the office from people asking to speak to John Horsfall. Unfortunately we can't put them through – John hasn't worked at the office for some time! We have a long history within the British textile mill industry and it all started with our founder and the man who gave his name to the company – former master plumber, Mr John Horsfall of Halifax, England.
Born in 1823, John came of age at the beginning of the Victorian era and at the height of the industrial revolution in Britain. He started the company that now holds his name having had no prior connection to textile manufacturing. John was a product of his time – the classic Victorian entrepreneur.
RADICAL CHANGE
In the mid 1800's the growth of the steam powered textile mill had spread rapidly in Yorkshire and Lancashire. The invention of automated looms and spinning machinery earlier in the century and the arrival of a new railway to the Calder Valley in the 1840's changed everything. By the 1860's the industrialised textile industry in Halifax was booming, attracting business men like John from diverse walks of life.
Seizing the opportunity to be part of a modern, rapidly growing industry, John made a life changing career jump in 1863. He formed a partnership with his brother-in-law, James Clay, already a woollen manufacturer. Trading initially as Clay & Horsfall from a textile mill in Luddenden Foot near Halifax, the company that was to become known as 'John Horsfall' began.

A FAMILY STORY
John married Elizabeth Nicholl in 1855 and together they had 6 children, four boys and two girls. There is little historical information about their girls; Sarah Ann and Alice, except that Alice married Fred Taylor, a spindle maker – another textile manufacturing connection.
Three of their sons would manage the Company for the next 50 years.
Eldest son, Whiteley took over running the company on John's passing in 1886, then his younger brother John William held the reins from 1905 until 1922. Finally, youngest son Percy, who had previously been a successful wool merchant, ran the company up to his own death in 1938.
Of the fourth son, Frank, there is very little known. Although he was a shareholder, family legend has it that he 'ran the wash house' (where woven fabric would be washed to remove oil and grease), some way from the management side of the business!
HOME LIFE
On a domestic level, John and Elizabeth started married life in Mount Street, Halifax. Later, they moved to Fern Royd in the Skircoat area where finally, John died on the 6th August 1886. He is buried in the family plot in south Halifax, close to where he lived with his family.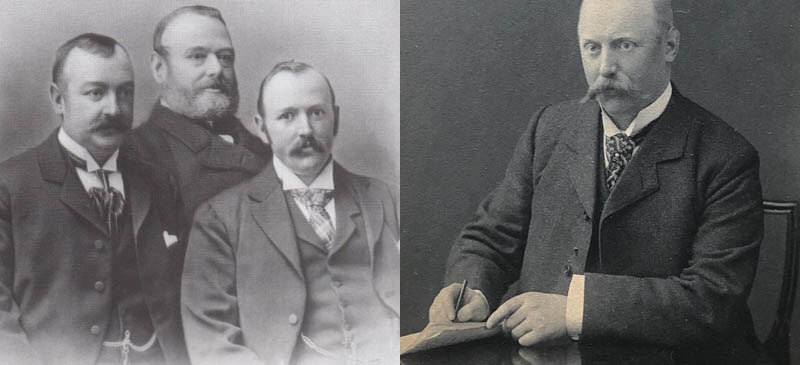 From its initial beginnings as Clay & Horsfall in Luddenden Foot, John's textile manufacturing business moved several times to premises in the Sowerby Bridge area. Finally, 10 years after John's death, a major fire at the latest mill necessitated another move.

The textile mill complex 'West Vale Works' in Greetland, near Halifax, became home in 1896 and was the company's only base for 100 years. When the John Horsfall company was incorporated as a limited company in January 1905, (Greetland) was added to the name to distinguish it from John C Horsfall & Sons who made knitting wools in Keighley.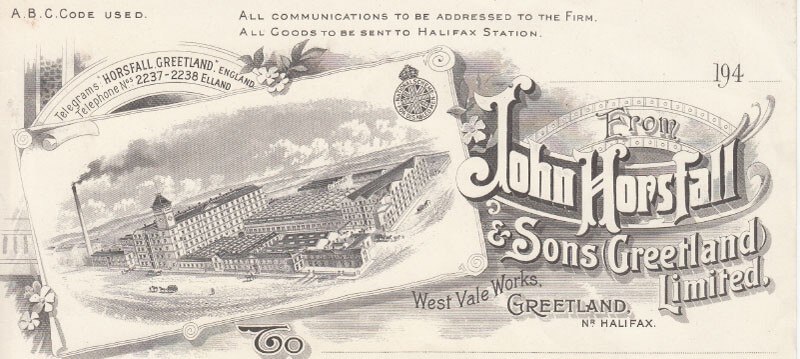 MODERN AMBITIONS
The original John Horsfall was forward thinking and ambitious. In 1863, with a wife and young family he took a huge leap into the unknown and now, 150+ years later that venture is still thriving.
In 1938 the company ownership passed to Percy's daughter Kathleen, whose husband Arthur Benson ran the business from 1938 until 1970. Their son John Horsfall Washington Benson ran the textile mill and company for the next generation until Percy's great grandson, Peter Horsfall Benson became Managing Director in 1997. In recent years a sixth generation, his son Charles Horsfall Benson, has also joined the family firm!
The textile industry in the UK has changed beyond recognition over the last 40 – 50 years, with manufacturing moving mostly overseas. John Horsfall & Sons Ltd moved from domestic blanket manufacturer to making airline blankets in the 1970's and since then has diversified into all areas of airline soft product. We have moved with the times by sourcing product from all corners of the world, yet we still hold on to our roots with our head office and a small manufacturing and warehousing unit in the UK. We employ skilled staff from the local area and continue to be an active and growing part of the British textile industry.
In 2018 we rebranded once again and launched 'Creativity in Flight' as a brand essence.

'Experience enhancers' since 1863 – we are designers, product developers, logistics experts and dedicated sales staff working together to continually provide the best product and service for our customers. From John's original leap into the unknown to today; wherever you fly to – the John Horsfall team are with you all the way.