Exhibition Notes from IFSA 2019
The John Horsfall team travelled to LA for the IFSA Expo from 9th-11th September 2019. The show was co-located with the Airline Passenger Experience (APEX) Expo & Aircraft Interiors Expo at the Los Angeles Convention Center.
It is an important date in our diary to ensure we're continuing to follow all of the exciting innovation across the aviation industry. Also a great time to exhibit some of our beautiful products and meet many customers from across the globe. Our booth showcased a carefully curated selection of product to span all potential airlines and classes, whilst capturing our mantra of 'detail, design, delight'. There was a meeting area for our exciting development discussions with our Brand Film in the background. All subtly helping to support us and our company aesthetic.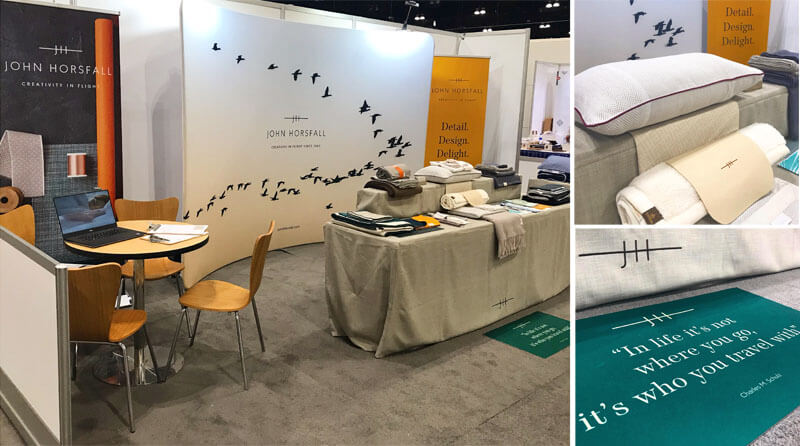 The expo was full of fantastic networking opportunities for everyone, not just in the exhibition hall but also at the host hotel – the InterContinental in Downtown LA. The IFSA team hosted an excellent evening on Day 2 at Spire 73, the tallest open-air bar in the Western Hemisphere. A great opportunity to catch-up with both customers and colleagues.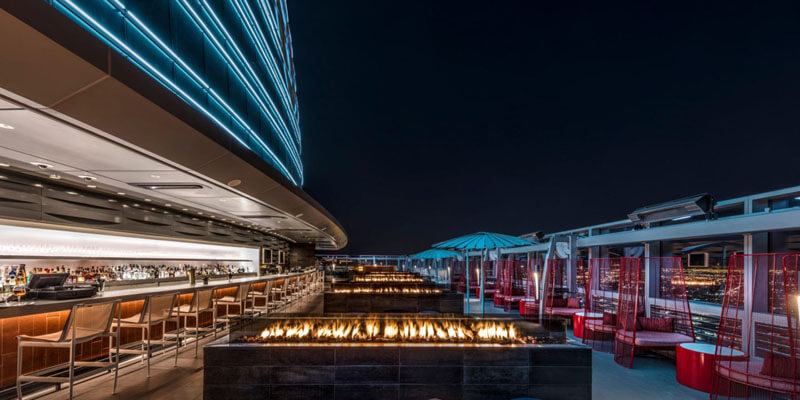 PRODUCTS & PROJECTS
Our product display focused on creative, sustainable comfort items whilst also showcasing our collaborative brand design opportunities.
Also on show was an exciting range of new designs to discuss with our customers. We created new ranges around blankets with added value, sleepsuits and sustainable packaging, all whilst maintaining affordability.
Our blankets experimented in different weave structures, drawing on our textile weaving history to create exciting, interesting alternatives to the fleece or duvet. Our sleep suits have explored recycled and organic fabric compositions whilst maintaining modern design concepts to suit a range of demographics. Lastly our sustainable packaging ranges encouraged the reduction of plastic on board with new creative, rotable solutions. We, at John Horsfall, are always trying to ensure we consider not just the product itself but how we can improve the entire process.
Overall we want to enhance the customers experience on board any way we can – we aim to create a journey for the senses.

IFSA's MAIN FOCUS – SUSTAINABILITY
Sustainability's importance has been escalating across a wide range of industries for many years, and it is no different within aviation. The main drive at the International Flight Services show definitely had focus on all needing to 'do their bit' and more. All suppliers, customers and airlines are focusing on how their flight experiences are becoming more 'green'. However this is not just for greenwashing their customers with excellent buzz words, but to actually make a difference for our futures.
Guido Gavars, Director of Procurement at United Airlines, presented a brilliantly inspirational seminar to encourage all suppliers to not only attempt to touch on the "sustainable and recycled" theme. But to consider all impacts related to each concept and really research the effects that it may have on the environment. The overall goal is to create fully considered and responsible products. We can clearly see here how sustainability is continuing to be more of a priority, not just a consideration.
ARRIVING BACK…
Now we're back at the John Horsfall HQ we have plenty of follow-up work to keep ourselves busy. We also have some very exciting new projects to get stuck into. Keep an eye on our website to hear all about the new products that will be coming to you on board soon!
If you didn't manage to attend the show in LA and want to get in touch about upcoming cabin textile projects, please contact us and we will be happy to discuss any new opportunities.