World Sleep Day 2021
To celebrate World Sleep Day, held on March 19th this year, the team at John Horsfall have brought together some ideas on how to improve sleep and promote wellbeing. Our products will enhance your comfort when travelling and are specifically designed to promote good sleep on board any flight.
But first – World Sleep Day 2021 has a slogan that we can all get 'on-board' with;
Regular Sleep, Healthy Future
Sleeping to promote health and wellbeing is not a new concept, illustrated in this quote attributed to the Elizabethan dramatist Thomas Dekker in the early 17th Century
"Sleep is that golden chain that binds our health and our bodies together"
Fast forward to the early 21st century and there emerged a growing feeling amongst sleep professionals that the importance of sleep had been overlooked in 24/7 rush of the modern world. #WorldSleepDay was launched 14 years ago as a platform to advocate and educate the world about the importance of sleep for achieving an optimal quality of life and improve global health.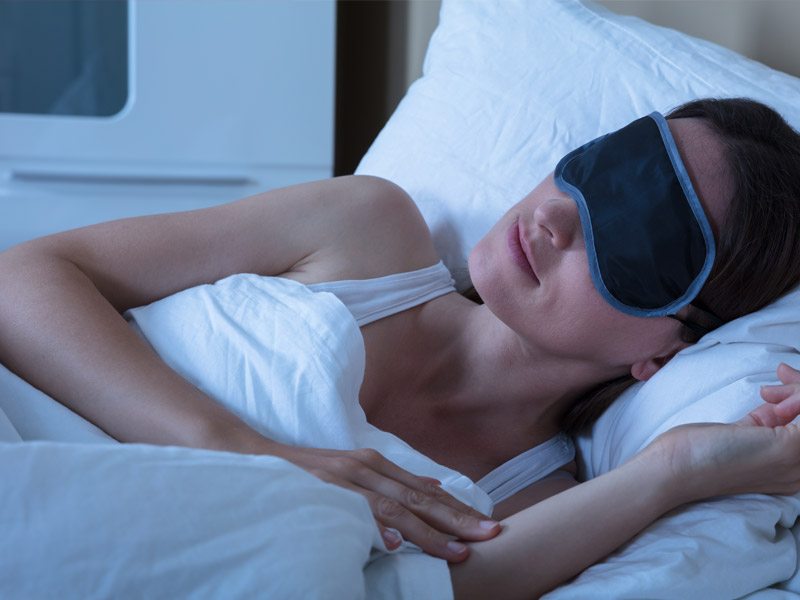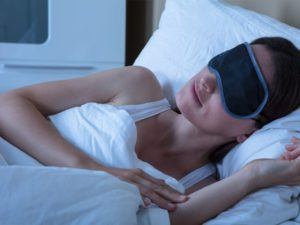 Studies done in recent years consistently show that stable bed times and rise times are associated with better sleep quality in people of all ages. As we all know though, keeping to a regular timetable is very difficult for the air traveller – your 'bed-time' and 'rise-time' is very much dictated by your 'flight-time'.
So how can John Horsfall help to improve your customer's inflight sleep experience?
Layer Up
Did you know that your body and room temperature play a pivotal role in helping you fall asleep? What do you prefer – a hot room with no blankets or a freezing room and 10 blankets? Not an easy one to solve in a shared domestic space, and even more difficult in an aircraft cabin!
Passengers want to be able to personalise their own space, create their own optimal atmosphere for sleeping – and layers are key.  Offering layers of product with varying textures and warmth enhances the passenger's sensory experience, creating a harmonious, restful space and improving overall wellbeing.
COTTON BEDDING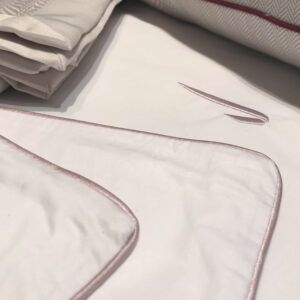 The use of cotton fibres lends a natural breathability to materials which helps to regulate a passengers' temperature as well as feeling cool and soft against the skin. This in turn improves quality of sleep and can lessen the feelings of jet-lag after a long-haul flight.
This set is a premium pillow cover & duvet cover made with the finest 400 thread count cotton, designed for supreme comfort, but also with practicality in mind. Using cotton's natural cellulosic structure to make a breathable and luxurious fabric, this fabric is a longer-lasting, sustainable product which offers a luxurious passenger experience time after time.
Inherently durable and able to withstand the rigors of industrial airline laundry, products containing cotton offer the perfect commercial combination of a luxury passenger sleep experience and a practical product.
WOVEN BLANKETS
Our woven blankets are designed to be used and re-used over and over again. Some of them have proved to last for much longer than any of us expected – see our blog story on one that is still looking good after 20 years!
A product with such longevity offers value for money to our airline customers and helps with important sustainability goals. But practicality does not mean that beautiful design is left out of the equation. As with all of our airline textiles, each design project is developed to meet a customer's exact requirements and is completely unique to them.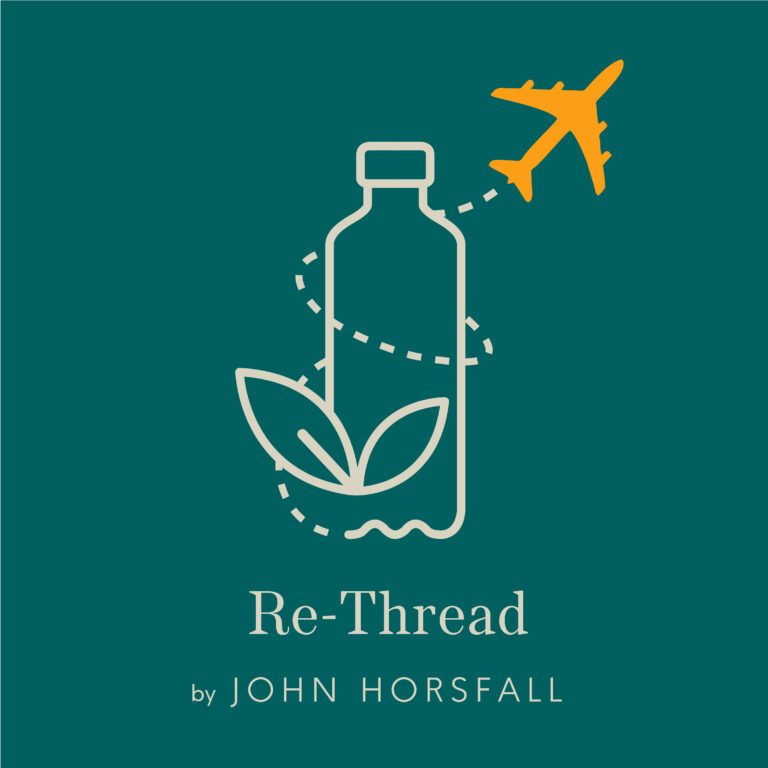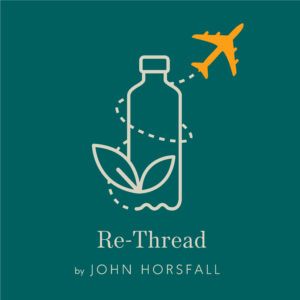 Woven blankets offer texture and warmth, adding an extra dimension to any layers, providing a sensory tactile experience that cocoons your passenger while they sleep.
We offer woven blankets in a variety of different fibres including cotton/polyester blends and of course our innovative Re-Thread technology, polyester derived from recycled PET bottles.
But for the ultimate indulgence, what about a bespoke lambswool woven throw – like this one made for the historic aircraft Concorde?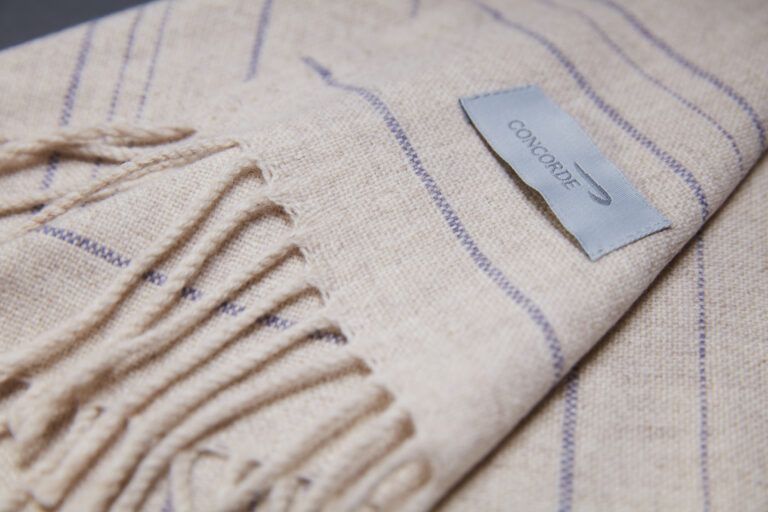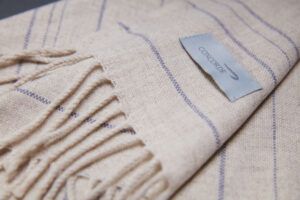 A 100% natural, sustainable and biodegradable resource that comes in many different natural varieties and colours, wool absorbs, retains and releases moisture without affecting its thermal properties; its moisture wicking properties regulates body temperature, keep you warm and cosy when you need it but also cool when you don't.
A well-made woven blanket can be hygienically cleaned and looks good time and again; perfectly conveying a brand message as well as offering passengers the best possible on-board experience.

Contact the team for details on long lasting bespoke woven blankets
ALL IN ONE DUVETS
Lightweight comforters or luxury filled quilts; a warm, cosy duvet is the ultimate layer of comfort for your passenger. John Horsfall can offer options to suit customers in Premium Economy all the way to the luxury of a Private Jet. Our design team can help differentiate the areas of your cabin with bold prints or subtle textures, different fill weights and quilt patterns. Some examples below;

Quilted Duvets don't always have to be a standard box design. Add detail and elements from your branding or reflect textures from cabin interior surfaces in the colours and patterns of the stitched lines. For the Finnair BC Duvet set, designed with Finnish design house Marimekko (famous for their large-scale, dramatic prints), the John Horsfall design team found that the bespoke print design lends itself very well to a well filled peachskin duvet and matching pillow cover. A more subtle approach was taken with the print, if not the colour, on the Air Mauritius comforter. Inspired by elements of the natural world that surround the island of Mauritius, the outline of coral is picked up in the printed binding on their bright sky-blue comforter.
Find more inspiration in our web pages.
Sleep Smart
Creating a comfortable sleep environment on board means different things to different people. Whether a lie-flat bed is an option or you simply need support for your head while you sleep further back in the aircraft, your travel experience would be greatly enhanced by one of our smart solutions for a restful sleep.
Bespoke mattress pads and pillows; luxury memory foam, innovative eco-fibres, double sided options and creative combinations of fillings all help to create the perfect bed in the sky, however you fly.
Mattress pad
John Horsfall are constantly elevating the long haul flight experience with innovation in mattress pads, adding comfort and contentment engineered to precisely fit your seat, stowage and budget. Options include top of the range memory foam, eco filling such as bamboo, spacer fabric, or even foam/fibre combinations of fillings to provide a choice of comfort level. Outer fabrics can be engineered to embrace warmth, elegance, breathability, colour and comfort.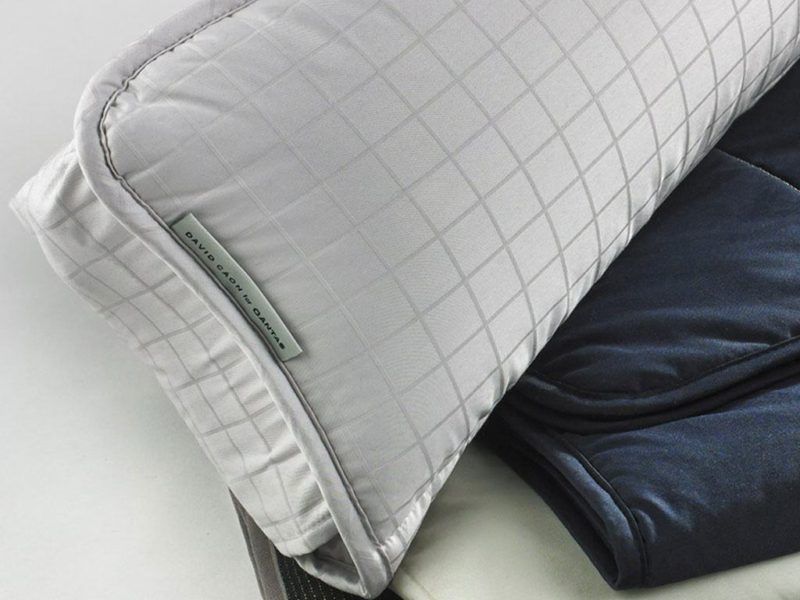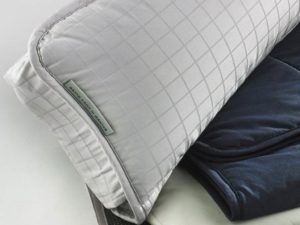 For Qantas Business Class, we designed a fibre filled mattress product with an integral hood. Specifically made to hold the pad on the seat when in use, it also fit around the rolled up mattress pad – and is presented to the passenger as an eye catching extra bolster cushion. The polycotton outer has a bespoke jacquard weave design that enhances the design aesthetic of the cabin and delivers a comfortable, natural, breatheable base for a good nights sleep.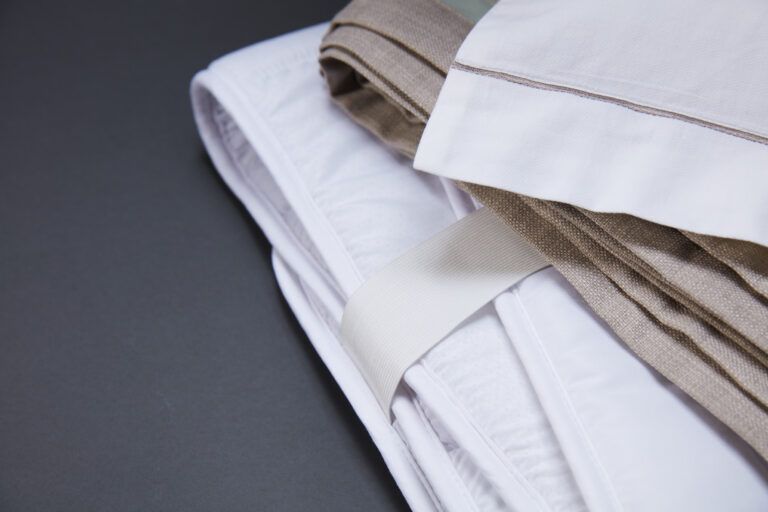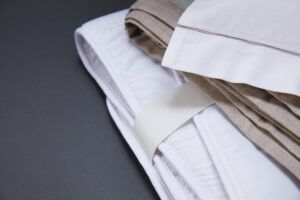 Perhaps you prefer a more structured option? Layers of foam and fibre, quilted in a simple style can easily be stored on board an aircraft, rolled or folded and held in place by a hood or elastic – or a bag with a bespoke branded print or 'sleep well' message.
These and more technical solutions; from memory foam in different thickness to a breathable spacer fabric which offers support and moisture wicking properties, can all be combined with superior outer fabrics for a single use product or with a separate washable cover tailored to fit the pad.
Pillow library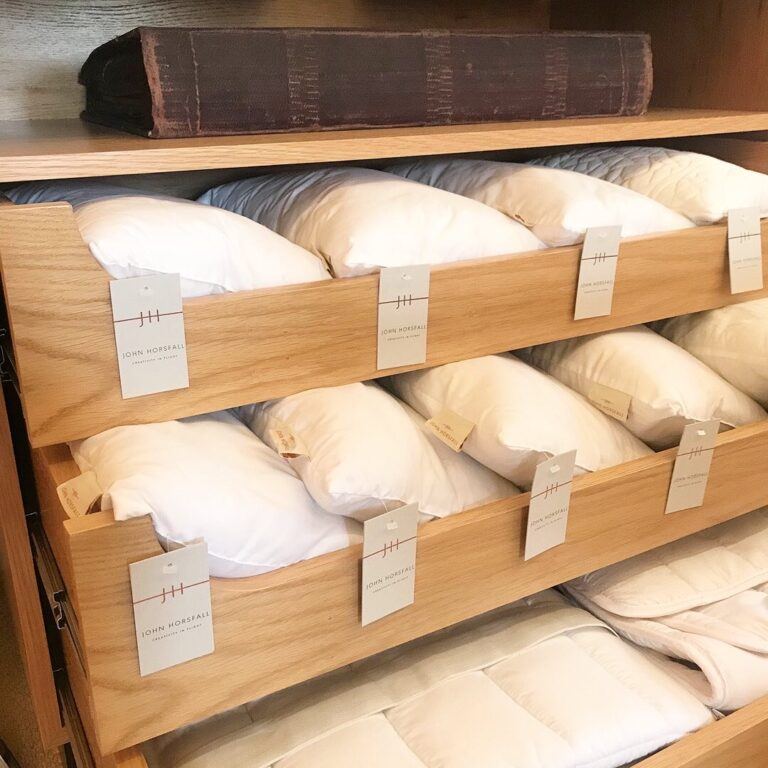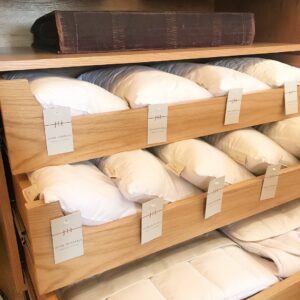 Our extensive pillow library, shown here in our HQ showroom, brilliantly illustrates comfort options for every cabin and budget level. We have sourced a collection of innovative pillow fillings to offer hotel quality for the in-cabin sleep experience, improve sleep and promote wellbeing for the tired traveller. 100% recycled polyester fibres can be seen alongside eco-friendly options such as Sorona or bamboo fibres, and double-sided memory foam 'all-in-one pillows' – a mini pillow menu all on its own.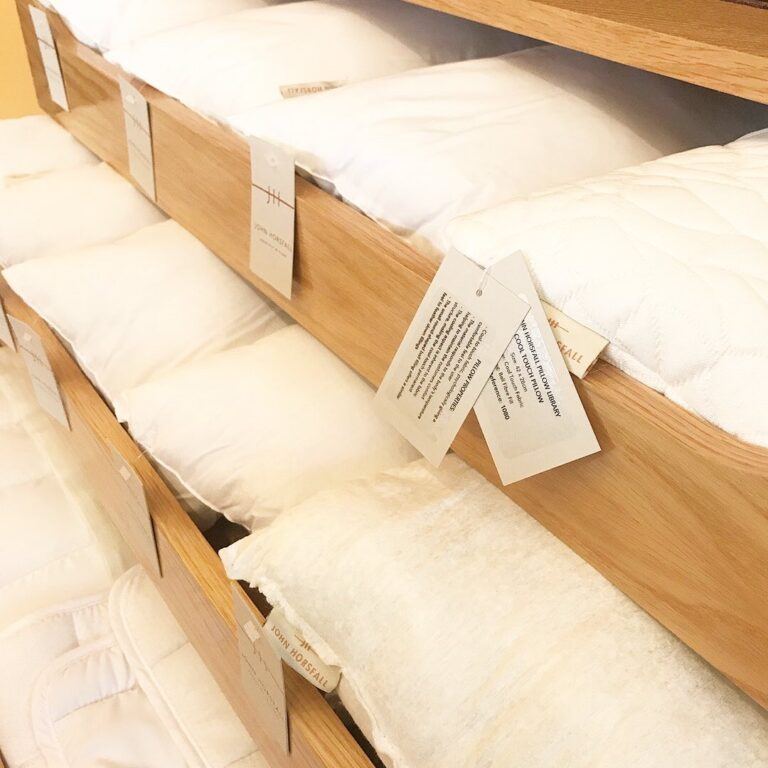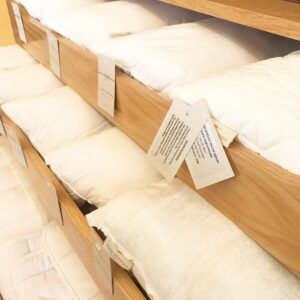 Cool touch outer fabrics can help to regulate temperature in the cabin environment, or any of our filling types can be combined with standard pillow tick fabric. We can even offer your passenger a pillow containing fibres with micro encapsulated calming scents – scientifically proven to improve sleep quality – they help you fall asleep more quickly and wake up more refreshed.
SUSTAINABLE TECHNOLOGY
In all of our bespoke products our design team can offer sustainable fibres, filling and fabrics. Give your customers piece of mind – they are contributing to a sustainable, healthy future.


The Re-Thread by John Horsfall range now includes;
Regen cotton for duvets and bedcovers – fabrics made from regenerated cotton from waste denim and cotton clothing manufacture; saves waste from landfill and uses much less water than virgin cotton production
GRS certified recycled polyester for bespoke on-board blankets pillow and duvets. Using post-consumer waste from plastic bottles and packaging saves waste from going to landfill and reduces ocean pollution.
BioFibre From John Horsfall is our naturally sustainable alternative to traditional plastic based non-woven material. 100% Biodegradable, Zero Chemicals, Zero plastic – the responsible choice for sustainable disposable fabric.
And Relax…
Top off the in-flight experience for your passenger with John Horsfall sleep wear in natural, breathable fabrics, designed for comfort, relaxation and modesty. Options in our collection include recycled materials, comfortable knitted fabrics and elegant finishing touches. Our designers can add some subtle branding – so that if the sleep wear is a 'take home gift' for your passenger, they will be able to remember their flight and the best sleep on an aircraft they ever had…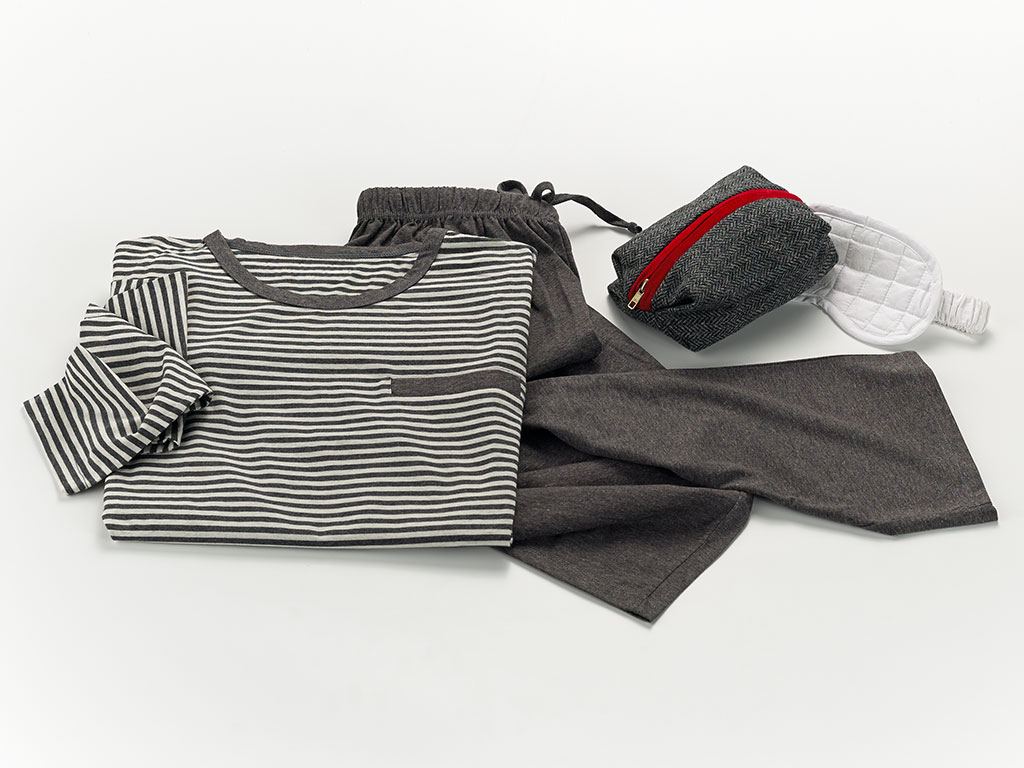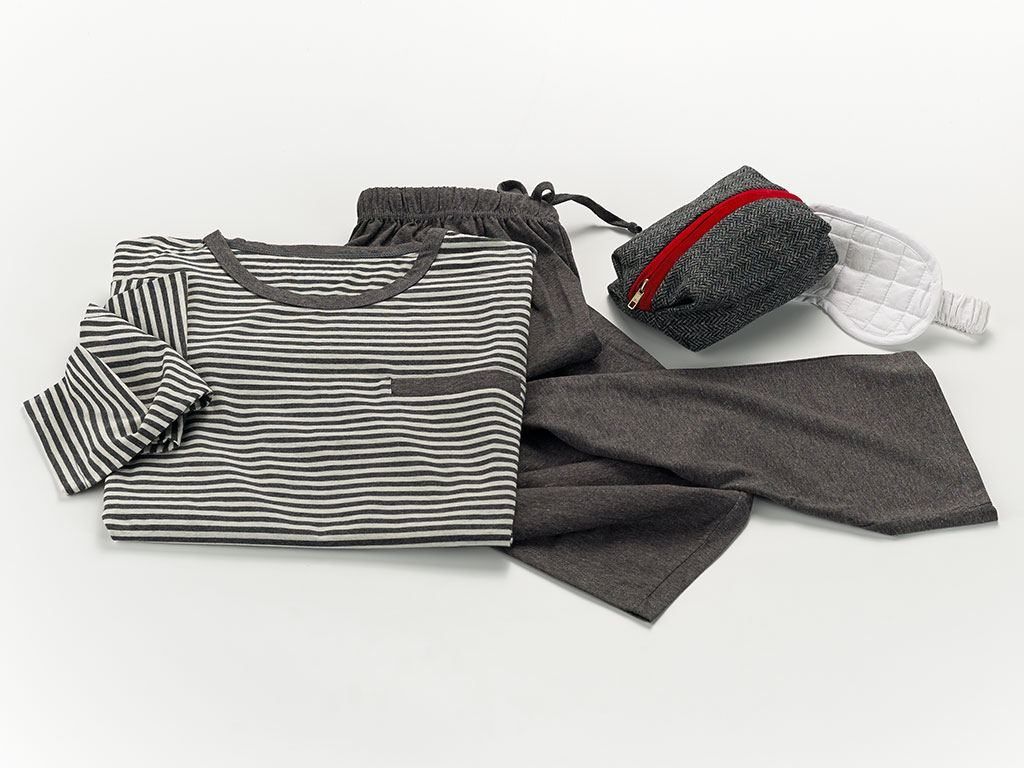 Lastly, we came across this list of breathing exercises to help you fall asleep faster. In celebration of #WorldSleepDay2021, why not try this at home, in preparation for the next time you take a long-haul flight – hopefully in the very near future…
We know how much importance your customers place on getting a good night sleep onboard. We create bespoke products to suit any class, creating ultimate comfort in the sky. It's our aim to make the red eye flight a thing of the past with beautifully practical comfort products that relax, reassure and delight.
Boldness and creative thinking are woven into everything that we do – contact us to start work on your ultimate on-board sleep experience.