Premium Economy in 2019
John Horsfall are proud to supply product in some of the highest Skytrax rated Premium Economy cabins and understand how design and innovation in this area can transform experiences and create added value for our airline clients.
We've taken a look at how this area might develop through 2019 and beyond.
WHAT IS PREMIUM ECONOMY?
Bridging the gap between economy and business class, Premium Economy, as the name suggests, offers customers an enhanced on-board experience when compared with a standard economy seat.
It typically offers increased comfort – achieved by extra leg room and wider seats, as well as enhanced soft products and food menu. The seats are usually located in a smaller cabin with fewer seats, which means they are often quieter and enable customers to more easily create their own sanctuary.
HOW HAS PREMIUM ECONOMY EVOLVED?
Although becoming more prevalent in the last few years, Premium Economy has actually been around for some time. Eva Air are reported to be the first carrier to introduce it as a 4th cabin on their Boeing 747's in 1992.
In more recent years the cabins have become increasingly popular, with many of the world's airlines now incorporating them on new aircraft, or retrofitting their existing fleet. This is in response to consumers being willing to pay more for a higher level of comfort and a service which is tailored to their needs, especially on a long haul flight.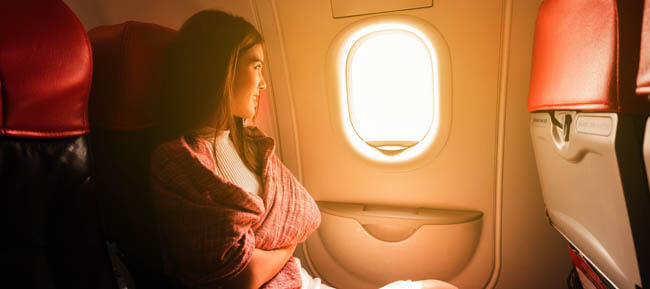 WHAT DOES THE FUTURE OF PREMIUM ECONOMY LOOK LIKE?
Jason Rabinowitz of The Points Guy forecasts that Premium Economy is still a key area of growth. With Business Class cabins ever improving, and often more akin to the First Class cabins of 10 years ago, Rabinowitz predicts "2019 may be the year when an airline takes a premium economy product to the next level, helping to close the widening gap between economy and business".
You rarely see a Business Class seat nowadays which does not recline to a full "lie-flat" 180 degrees, as most of the older style angle-flat seats have been phased out. Rabinowitz suggests however that we may see a compact version of an angle-flat seat in Premium Economy before long. This would be a huge enhancement, allowing even greater levels of comfort for those on long haul overnight flights wishing to get a few hours precious sleep.
Another improvement we are likely to see is increased functionality of the seat becoming more mainstream, offering further improvement on standard Economy seats. Additions such as extra USB points and improved connectivity, places for PEDs, and wider and better quality video screens, as well as WiFi will mean seats are well equipped for leisure or work opportunities inflight.
HOW CAN WE IMPROVE ON-BOARD TEXTILES?
From an airline's point of view it's important that we don't mimic too closely what's happening in Business Class, after all the aim is to gain increased revenue from Economy passengers willing to upgrade, rather than losing Business Class customers to Premium Economy. However there are ways in which we can enhance products that mean improved comfort for customers without the added luxury of the Business Class offering.
Our Premium Economy blanket for Qantas, developed in collaboration with David Caon, features a textured yarn dyed woven blanket, similar to the one provided in Economy, but with the enhancement of a soft brushed back, quilted together with a layer of filling inside. This adds extra warmth and comfort, bridging the gap between a blanket and a duvet, whilst still remaining lightweight and easy to stow. It is finished with a printed trim on the edges for a sophisticated look.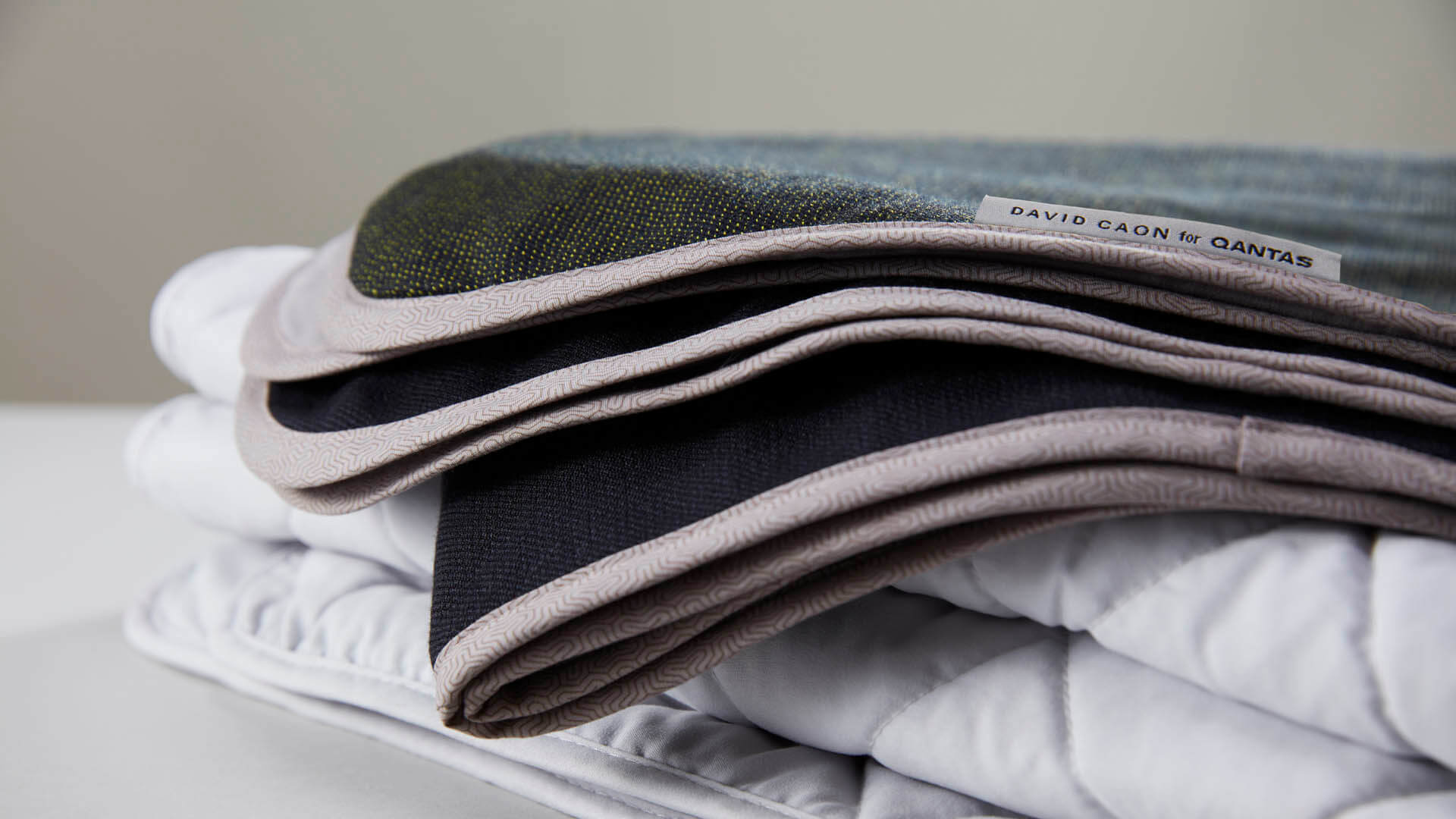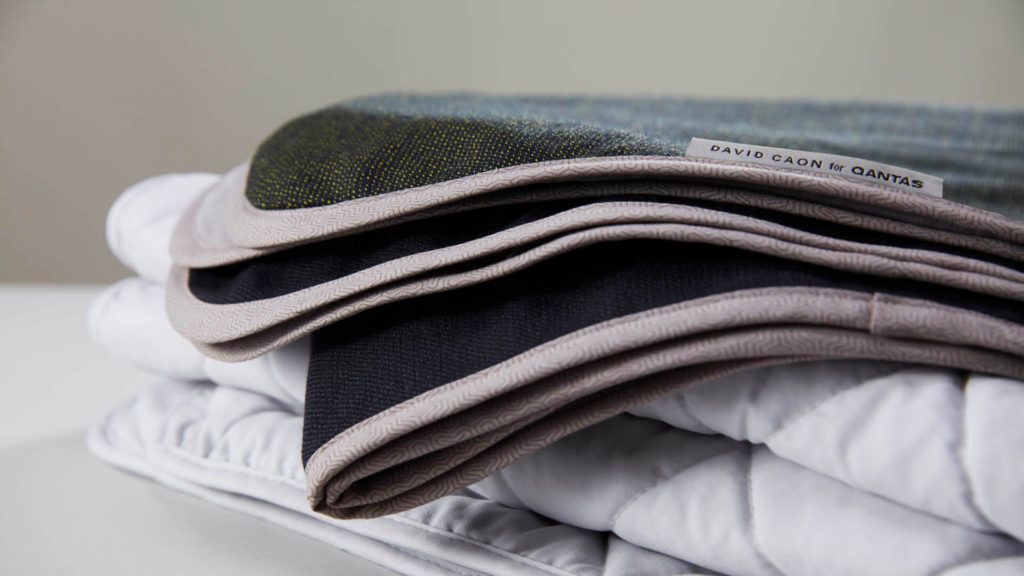 Another option is a lightweight comforter/quilt. Since we first launched our peachskin duvets in Business Class around 10 years ago, we have supplied millions around the world. Made as an all-in-one product with a soft brushed polyester outer, and a cosy polyester fill, they are simple to launder, and easy to stow, yet give the customer the experience of a proper duvet, previously only seen in First Class. We have now been able to develop a lightweight version of this product which is perfect for Premium Economy, and currently flown on Cathay Pacific. A similar John Horsfall product is also due to launch with another major airline later this year.
MULTI-PURPOSE PRODUCTS – MORE FOR LESS
Going forward we are focusing on multi-purpose products, ones which add value and comfort for the customer, but without additional part numbers and laundry costs for the airline. We've designed reversible pillows, which can be presented as an accent cushion by day, and then turned over for a sleep pillow at night, and are also looking an innovative ways to offer a lightweight seat cover or mattress which doubles as a blanket.
We will be exhibiting all of our new products at WTCE Hamburg from 2nd – 4th April 2019.
Please do drop by Stand number 1G80 and see us.