Exhibition Notes from WTCE 2019
A KEY EVENT IN THE CALENDAR
Between 2nd and 4th April 2019 the 8th World Travel Catering Expo in Hamburg ran alongside the Aircraft Interiors Expo, and formed part of Passenger Experience Week. A key event for the travel industry.
It is the main exhibition event in the John Horsfall calendar and gives us a fantastic opportunity to showcase our products. We also value meeting with 100s of airline buyers who visit the show to source, to network and to keep up to date with industry trends.
The exhibition halls looked fabulous, with many companies investing heavily in their show space so that stands looked bigger and better than ever before. This year, in line with our new brand launch, John Horsfall had a completely redesigned space. The stand design encapsulated the mix of our heritage with our modern, forward thinking outlook. It was a perfect backdrop to our soft textile products, therefore enabling us to showcase a wide range of recently launched projects. It also included a meeting space and a screen showing our brand film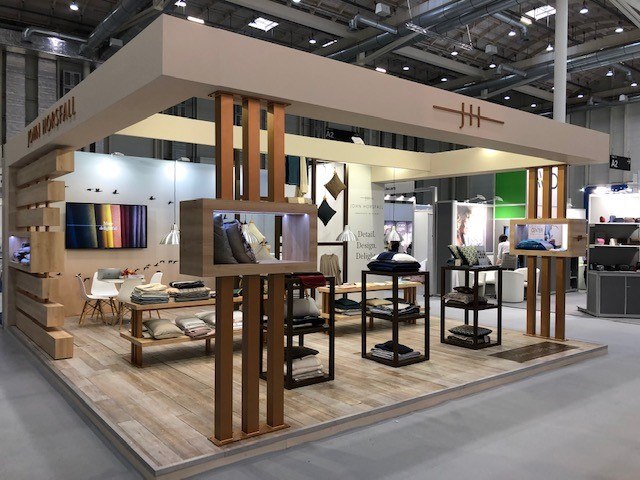 SUSTAINABILITY – THE HOT TOPIC
At this year's exhibition, sustainability was a hot topic for both exhibitors and visitors alike. Although it has been increasingly important for some time, this year there was a definite shift. We are seeing sustainability becoming a priority rather than just a consideration.
At John Horsfall we exhibited our range of GRS (Global Recycling Standard) textiles, which include duvets, blankets, pillows and pillow covers. Made from 100% recycled PET the material behaves in exactly the same way as a normal polyester fabric would.  As a result, the customer notices no difference in quality or comfort. This is despite the products being made from recycled plastic bottles.
As well as fleece blankets (which we have offered as a recycled option for some time), we have also developed woven products which use recycled yarns. This includes woven blankets often used in economy cabins. We also offer peachskin which can be used for duvets and pillowcases. The duvets can also be quilted with 100% recycled PET fibre filling.


ELIMINATING SINGLE USE PLASTIC
Another important factor for us to consider in terms of sustainability is how our products are packaged and presented. Focusing on blankets as an example; traditionally each one is dispatched by us (and subsequently offered on the aircraft seat to the customer each time) in a new polythene bag. We understand the need for cleanliness, but eliminating single use plastic packaging is important. It will also improve the appearance and presentation to the customer as they board the aircraft.
With this in mind we have been developing ways to roll or fold bedding items so they are self-contained. This removes the need to provide any separate packaging. Although we only deliver the product for the first use i.e. when it is new – we work alongside laundries to ensure that items can be re-packaged in this way each time they are washed. Therefore eliminating the need for a huge amount of single use plastic over the product's life span. A simple paper tag or sticker can be used to indicate that the product has been freshly laundered and is ready for use.
Below is one example of a blanket that we launched at WTCE – our fold-away blanket features an "all in one" pocket, and can be offered on the seat without additional packaging. Resulting in less waste, a neater cabin and more attractive presentation to the customer.


THE AFTER PARTY
Now that the show is over, we have lots of wonderful plans to follow up on. In addition to this, we have some imminent on-board launches in the pipeline. 2019 already looks like it's going to be an exciting year!
We'd love to hear from you if you have any cabin textile projects that we can be involved in. You can contact us here